Grant Phabao - Cannonbutt
Posted on Wednesday 14 April 1999, 21:36 - updated on 04/03/12 - Singles - Permalink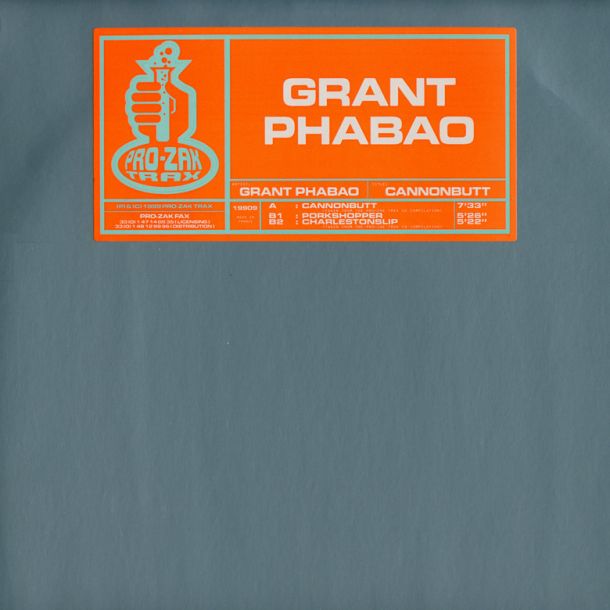 Grant Phabao
- Cannonbutt
(12") Pro-Zak Trax PZT19909, 1999-04
A1. Cannonbutt 7:33
B1. Porkshopper 5:26
B2. Charlestonslip (featuring
Henchy
courtesy of
T.I.M.E.C.
) 5:22
Info
Cannonbutt
: Enfin le 2ème single de Grant Phabao! Killer acid filtered disco dubby pumpin' house: "the bongo beat" indeed. The sun... the moon... très barré à sa sortie, en écoutant le "It began in Afrika" des Chem' Bros. aujourd'hui on se rend compte qu'en pleine déferlante french touch, GP évoluait lui déjà aux frontières de tous les styles de dance-music bien formatés qu'il a rapidement assimilées. Une production terrible parsemée de breaks absurdes tout du long, histoire de mettre le feu aux dancefloors avec le sourire.
Porkshopper
: "We don't share no more like we used tp". "Stay at each other's house"... Moodymann, pumpin' & preachin'? Non, non, on reconnait très bien Grant Phabao, en fait. Nappes et claviers jazz, breaks improbabales autant qu'imparables, beat démultiplié qui parcourt chaque membre du corps, petits bruits tout partout en arrière-fond pour ceux qui ont des oreilles... Grant Phabao's got soul!
Charlestonslip
: Un track de Grant Phabao qui démarre par un riff de guitare bien saturé? Ah mais c'est notre Henchy national (qui a malheureusement abandonné la musique en 2002 pour se consacrer à des activités plus lucratives), vieux compadre de Grant Phabao des bancs de la fac, qui vient en guest (with courtesy of T.I.M.E.C.), faire fusionner ses accords POP et sa voix de vieux fumeur avec une production breakbeat dub signée Grant Phabao, dans l'esprit de son "Zinedine" pour le groupe Molesting Laura. Un track psychedelico-breakbeat saisissant qui prendra toute son ampleur en générique du court-métrage de Manuel Moutier avec Brigitte Fossey, "Toujours plus loin". Une riche idée à repiquer d'urgence!
Ezluv.org
Porkshopper as available on "Compilatrax vol 1"
Pro-zak Trax Took a while for this to grab on to me, everyone asks about it when I play it. "We don't share no more like we used to."
12" artwork :
no attachment
---