Grant Phabao - Remixed And Remixes Vol.2 (T.I.M.E.C.)
Posted on Friday 15 December 2006, 08:29 - updated on 07/07/12 - Remixes - Permalink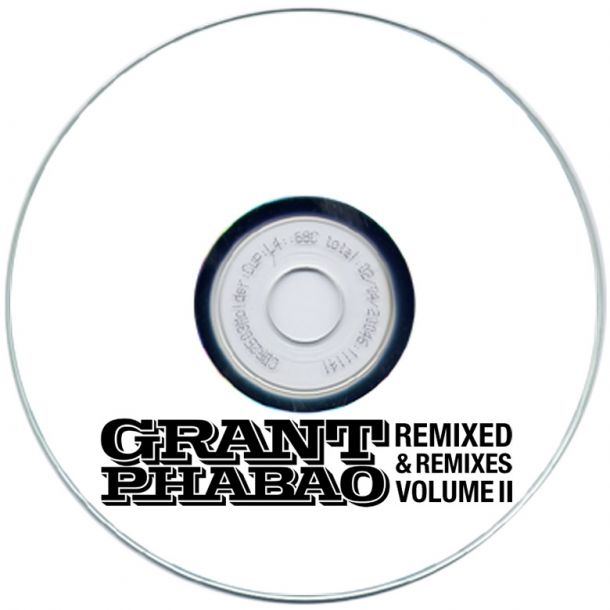 Grant Phabao
- Remixed And Remixes Vol.2
(Limited edition promotional CDR, 30 copies) T.I.M.E.C. TIMEC121, 2006-12-15
Tracklisting :
01.
George Clinton
- U Ain't Runnin Shit (
Grant Phabao
skank)*
02.
Lee McDonald - We've Only Just Begun
(
Grant Phabao
remix)
03.
Ty
- Don't Watch That (
Grant Phabao
remix)*
04.
The Procussions
- Simple Song (
Grant Phabao
remix)*
05.
Grant Phabao feat. Milytant'C & Aleena
- Remember/Love You Dearly (
Erik Rug
Remix)*
06.
Cee-Lo vs Grant Phabao
- Natty One (
Booty Smash Soundsystem
Mix)**
07.
Beenie Man vs Grant Phabao
- Roots Dude (
Booty Smash Soundsystem
Mix)**
08.
Mr Vegas vs Grant Phabao
- Under Me Skank (
The Flying Customs
Mix)**
* exclusive unreleased remix formely available, available now, or available soon on www.parisdjs.com
** bootlegs from Grant Phabao riddims leaked on p2p networks - if you are 'the flying customs' or 'the booty smash soundsystem' contact us please!
Press Release :
Many radio programmers and DJs enjoyed the previous volume of "Grant Phabao Remixed & Remixes", with its handful of hits and discoveries, and his 2005 single with
The Lone Ranger
and
Carlton Livingston
, "(Message To You) Rudie", which got played worldwide, up to
Irie FM
playlist in Jamaica. The feedback was simple: everyone agreed on
Phabao
's unique production skills, bringing back the original
King Tubby
sound with a modern twist.
This second volume is as collectable as the first one (only 30 copies pressed!!), with even more mind-blowing reggae reworks than you could dream of.
The
George Clinton
connection happened through our lovely friends at
Kraked
who did produce an incredible hippie-funkadelic album a few years back ("Drugs", with members of
Funkadelic
and new wolves). They had three Clinton tracks to remix and handed the slow tempo one to
Grant Phabao
for instant reggaeification. And you'll love this one. Rappers got shut off, Papa George got lifted in the spotlight with his stunning
Curtis Mayfield
-esque take,
Blackbyrd
's guitar still shining, and
Phabao
decorating the whole with an in-your-bed reggae riddim. The track is 100% approved by
Doctor Funkenstein
while on tour in Paris this summer and should see the light in 2007 on a strictly limited 7 inch...
The
LM
remix is quite a story too. It was scheduled for release on some else's label, but we cancelled the release because that label never paid us for our work with him on a new distribution company (loss = thousands of Euros), never paid us for his online shop (which we closed - loss = thousands of Euros), never paid for his website (which we closed - loss = thousands of Euros) and never paid us for his domain name. We had agreed that he could release this remix after resolving all his debts, but he totally cheated on us and stabbed us in the back, launching a new site, not paying us, and releasing this remix on a limited vinyl without any authorization or contract AND with us telling him not to release it. We will be suing the crook without any remorse.
Grant Phabao
's first forrays into hip hop are smashers too, with a
Ty
remix that was available as an mp3 download for one day only (in collaboration with
Big Dada
Records,
Ping Pong
promo agency and
3eme Voie
touring agency) to celebrate his show in Paris.
Ty
loved this roots reggae take on his new single, "Don't Watch That". We met, exchanged emails and hope to build up more collaborations with the man in the near future....
When cool L.A. hip hop meets roots Jamaican reggae...
The Procussions
' remix was itself dealt directly with the artists and thier manager, without their label being involved. Their
Grant Phabao
reggae remix was so good that it immediatly got props from
Manu Boubli
(Mind Records),
Erik Rug
(Les Disques Du Telegraphe),
Betino's Record Shop
and many others, including world famous poet
Jalal
(The Last Poets), "the godfather of rap" who simply said: "it's fresh"... and then a few days later passed at our studio to start a track with
Grant Phabao
!
ParisDJs.com partner
Erik Rug
is a friend. He's ultra-talented and also lives only one block away fro the
TIMEC
studio. Exchanging remixing skills with him was just a matter of time... So he choose a track himself and revamped it in 80's UK dub stylings before we could say "Wow!". Respect to the original
Dreadless Soldier
cos' that's just a new deep dancefloor thing!!
We've also compiled in there three bootlegs we got our hand on, from unknown producers
The Flying Customs
and the
Booty Smash Soundsystem
, who managed to download some
Phabao
instrumentals leaking on Soulseek and mashed them up with some
Cee-Lo
,
Mr Vegas
and
Beenie Man
a capellas wonderfully! These boots are made for playing so we couldn't NOT spread them along the ones we did ourselves. [Any information on the bootlegers is welcome - if you're the Flying Customs or the booty Smahs Soundsytem please contact us - we love your remixes!!]
DON'T LOSE THIS CD - ONLY 30 COPIES OF THIS CDR WERE PRESSED!!
20 SENT TO DJS AND RADIOS
10 GIVEN TO MEMBERS OF THE PARIS DJS PODCAST CREW...
Links :
grantphabao.com
-
myspace.com/grantphabao
timec.net
-
myspace.com/timecmusic
parisdjs.com
-
myspace.com/parisdjs
-
myspace.com/gclinton
bigdada.com
-
myspace.com/tyandupwards
theprocussions.com
-
myspace.com/theprocussions
myspace.com/erikrug
-
myspace.com/lesdisquesdutelegraphe
jazzephaandceelo.com
-
myspace.com/ceelogreen
beenieman.net
-
myspace.com/beenieman
mr-vegas.com
-
myspace.com/mrvegas
no attachment
---