10 August 2010, 10:07 513
Recorded in July 2009, this remix is both official and unreleased. Produced par the international master of roots reggae Grant Phabao with Earl Blaize during a visit from the latter to Grant's studio in Paris. The track reinstates a chorus which didn't make the final cut on the album Fluorescent Black. The resulting remix is... quite pop and a surefire radio hit! A heresy for a band called Anti-Pop Consortium!! Consequently, only a small part of this remix is available, blended in a Ninja Tune mix on the cult website Paris DJs (20 Years of Remixes and Re-interpretations - Selected by Djouls).
---
10 April 2009, 09:05 298
We played this bootleg so many times at parties (to the dancers' delight), that we decided to fully remaster the thing and share it with everyone. We took the instrumental version of 'Requiem Pour Un Con' from Serge Gainsbourg, and tweaked it with the a capella from Roots Manuva's 'Witness'. The resulting track is driven by its fat and funky groove, erupting with a peculiar, sophisticated sense of rythm and harmonics. For those who haven't heard this bootleg yet, just expect the unexpected!
---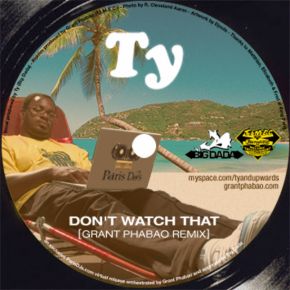 23 November 2006, 14:20 444
MP3 DOWNLOAD WILL ONLY BE AVAILABLE ON PARISDJS.COM FOR 24 HOURS ON NOVEMBER 23rd, 2006 TO CELEBRATE THE PARIS SHOW AT LA MAROQUINERIE !!!
---