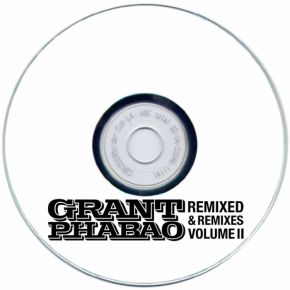 15 December 2006, 08:29 195
Many radio programmers and DJs enjoyed the previous volume of "Grant Phabao Remixed & Remixes", with its handful of hits and discoveries, and his 2005 single with The Lone Ranger and Carlton Livingston, "(Message To You) Rudie", which got played worldwide, up to Irie FM playlist in Jamaica. The feedback was simple: everyone agreed on Phabao's unique production skills, bringing back the original King Tubby sound with a modern twist. This second volume is as collectable as the first one (only 30 copies pressed!!), with even more mind-blowing reggae reworks than you could dream of.
---
18 July 2006, 07:19 355
Our first single is an unreleased remix of George Clinton's "U Ain't Runnin Shit" from his latest album "How Late Do U Have 2b B4 Ur Absent", carefully skanked by Grant Phabao into a sunshine piece of psycadelicreggaesoulthang. The track has been fully approved by the Dr. Funkenstein himself who visited us while in Paris for a supa-show at Le Zenith, along with Steel Pulse & The Gladiators!
---