23 November 2007, 13:14
A brand new bootleg found on the internet... "Encore un classique de la house que j'ai voulu étoffer un peu" says the PhatBastard who did this!
---
10 September 2002, 12:15 245
The enormous & mythical Grant Phabao hit - TUB - gets a re-rub from none other than ANTOINE CLAMARAN! Flipped with a percussive remix from J GRAU, Prozak Traxs number one Spanish producer!
---
19 August 2001, 12:14 269
All tracks produced by Professor Oz and Grant Phabao.
---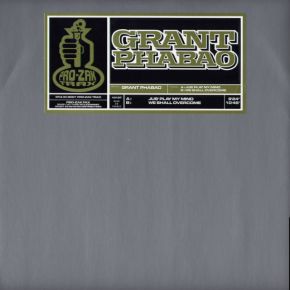 13 July 2001, 12:15 510
"Jus' Play My Mind" mixes funky brass, jazzy Fender Rhodes, rasta voice and electronic rhythms for a pure classy result!. B-side is a musical trip where jazzy Electro-Dub is mixed with a revolutionary speech that we all know!
---
08 June 2001, 12:18 103
Really nice traditional dub reggae type vibe going on here, with Richard Dorfmeister (Kruder & Dorfmeister) and Grant Phabao on remix duties... nice chillout stuff.
---
21 November 2000, 12:08 97
Includes Kojak - Stupid Jack (Grant Phabao remix), unavailable anywhere else!
---
14 July 1999, 12:18 154
Stupid Jack (Ruffneck skiank by Grant Phabao) : Un remix de 3:36 signé Grant Phabao? Étonnant... Le monsieur nous a habitué à des 6-7 minutes bien tassés minimum, et encore, pour un single radio [j'ai sur CD-R un track de plus de 33 minutes de Grant Phabao!!!]. Est-ce en raison du chant en yahourt difficilement supportable sur la longueur des cinq versions du maxi? En tous cas Grant Phabao choisit une de ses voix (impénétrables) préférées: le dub. Le rocksteady dubwize, pour essayer d'être plus précis. Et finalement on adore aussi quand Grant Phabao fait dans la sobriété.
---
14 April 1999, 21:36 212
Enfin le 2ème single de Grant Phabao! Killer acid filtered disco dubby pumpin' house: "the bongo beat" indeed. The sun... the moon... très barré à sa sortie, en écoutant le "It began in Afrika" des Chem' Bros. aujourd'hui on se rend compte qu'en pleine déferlante french touch, GP évoluait lui déjà aux frontières de tous les styles de dance-music bien formatés qu'il a rapidement assimilées. Une production terrible parsemée de breaks absurdes tout du long, histoire de mettre le feu aux dancefloors avec le sourire.
---
08 June 1998, 12:16 377
Grant Phabao's CLASSIC first single 'Tub'. A huge filtered house hit single, still played by the most famous DJs 14 years after it's release!
---
23 May 1998, 12:13 104
Engineered by Grant Phabao, Prince Emmanuel & Seven Dub. Mixed at Pro-Zak studio by Seven Dub & Prince Emmanuel assisted by Grant Phabao.
---