11 May 2008, 19:17 211
Another exclusive treat on this CD is the killer Grant Phabao remix of Alice Russell's "Humankind" which is destined to become a firm favourite this summer, with spine-tingling vocals and the trademark Grant Phabao magic.
---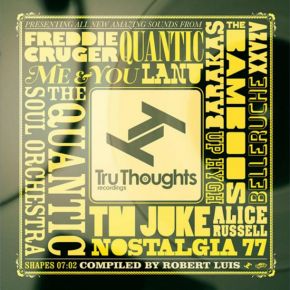 05 November 2007, 09:26 1184
Other treats you will find on the album include an exclusive remix by Grant Phabao of Alice Russell's cover of the White Stripes classic track Seven Nation Army, instrumentals of Freddie Cruger's 'I Wanna Make You Move' and The Bamboos 'Get In The Scene', the Quantic track Mi Swing Es Tropical which was recently featured on a recent Worldwide iTunes advert and is in such high demand that label owner Robert Luis decided to add it to this Shapes album despite its inclusion on a previous instalment.
---
17 June 2007, 07:14 398
Grant Phabao picked into some Tru Thoughts vinyls and found out Alice Russell acapellas were available. Bim bam! Digitalized into WAV files, riddim-ized into skanking beats and one drop grooves, 3 more remixes happened quite fast.... The Tru Thoughts crew loved those Grant Phabao reggae remixes too and will be releasing them on a "Shapes EP" 12 inch and on a "Shapes compilation" CD later on!
---