16 February 2012, 01:32 417
Some of you might remember the reggae remix our resident producer Grant Phabao did on N77's Seven Nation Army cover with Alice Russell… It was high time to try and rework a new Nostalgia 77 track and we had the chance to get a visit from Marco Benevento, one of our favorite keyboards players along with John Medeski and Jackie Mittoo. Well you put musicians in a studio, what happens? They play together, so Marco ended playing organ and then clavinet for a reggae remix of Simmerdown Phabao was working on... You won't hear this kind of artists combination anywhere else so we hope you'll enjoy the unique groove & spirit in there.
---
09 February 2011, 06:51 118
Released 28th Februrary 2011, Simmerdown is the first single to be lifted from the new Nostalgia 77 album, The Sleepwalking Society. Both the album and this single feature the stunning vocals of Josa Peit. The album is out 21st March 2011. Grant Phabao has cooked last week a reggae remix of this track featuring some guest keys by none other than the amazing Marco Benevento… more news on this one soon!
---
07 March 2010, 09:36 21
Kinny – aka Caitlin Simpson – was born and raised in Canada and has a mixture of Jamaican, Native Canadian Indian, French and Swedish heritage. She sings jazz, reggae and soul for Brighton's Tru Thoughts label, on which she released two albums. Here's Kinny and Grant Phabao virtual meeting, featuring the songstress' unique soulful vocals (taken from the a capella version of Forgetting To Remember), drenched into Jamaican roots grooves courtesy of the one and only french dubmeister. Play it... and then play it again - this is music that doesn't age!
---
11 May 2008, 19:17 211
Another exclusive treat on this CD is the killer Grant Phabao remix of Alice Russell's "Humankind" which is destined to become a firm favourite this summer, with spine-tingling vocals and the trademark Grant Phabao magic.
---
10 March 2008, 19:24 110
This EP's final track takes the ear in a distinctly different direction. This is the exclusive Grant Phabao remix of Nostalgia 77's take on "Seven Nation Army" featuring the mighty vocals of Alice Russell. The inspired hit is given a reggae makeover here yet retains its irresistible appeal to those bluesy jazz enthusiasts who went wild for this cover version "first" time around.
---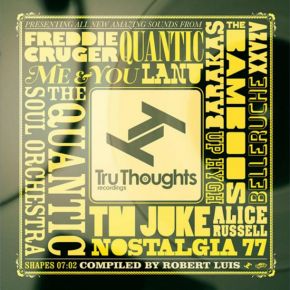 05 November 2007, 09:26 1186
Other treats you will find on the album include an exclusive remix by Grant Phabao of Alice Russell's cover of the White Stripes classic track Seven Nation Army, instrumentals of Freddie Cruger's 'I Wanna Make You Move' and The Bamboos 'Get In The Scene', the Quantic track Mi Swing Es Tropical which was recently featured on a recent Worldwide iTunes advert and is in such high demand that label owner Robert Luis decided to add it to this Shapes album despite its inclusion on a previous instalment.
---
17 June 2007, 07:14 398
Grant Phabao picked into some Tru Thoughts vinyls and found out Alice Russell acapellas were available. Bim bam! Digitalized into WAV files, riddim-ized into skanking beats and one drop grooves, 3 more remixes happened quite fast.... The Tru Thoughts crew loved those Grant Phabao reggae remixes too and will be releasing them on a "Shapes EP" 12 inch and on a "Shapes compilation" CD later on!
---