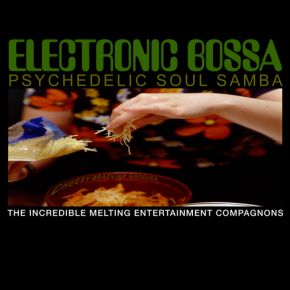 01 June 2005, 07:37 352
"I see T.I.M.E.C. and their really incredible melting-pot of latinized electronics as the cheesy Ninja Tune of Brazil" (J. Smithson, Professor of Brazilian & Afro-Cuban musicology, Yale University). Everything begun with our national Captain Détendu travelling to Brazil in spring 2002. There he met with the biggest jam pop band from San Pedro, Los Lobes, true international stars who came and join the team of T.I.M.E.C., the collective from Paris. Together they create a new recipe, greedy and spicy, based on Brazilian, Afro-cuban rythms, roots sounds, but also sharp samples, harmful sequencers and utmost, a double-cheese extra... Back in Paris, Captain Détendu met with his T.I.M.E.C. bunch to introduce his musical brainwave and sharpen, in the La Pinède studio in Paris, the cream (*) of electro-latino (also called Brachi music) to bring you sun, bossa, and carnaval. Therefore, the artist of the T.I.M.E.C. collective, as real chamber capoeran, have discovered the ultimate formula: unrestrained music + out-of-step humour = maximum sunshine.
---
01 May 2005, 09:42 471
Pollution, stress, anguish, life is harder and harder on your nerves... In order to cure these nervous problems, the Détendu Laboratories have selected for you the cream of electro down-tempo (also called Lounge music) to bring you calm, serenity and fullness. That's how the artists of the T.I.M.E.C. collective, as real lab assistants, have created in their studio the ultimate formula: peaceful music + out-of-step humour = absolute happiness. Here are the first signs that have been observed on a sample of the population after the very first listen of this album: Better relations with the surrounding environment, a spreading happiness and an irresistible desire to relax (TIME(C) TO RELAX would even stop the fall of the hairs!!!) So don't hesitate to get a prescription for this album at your usual CDs store to finally live and enjoy without stress and in perfect harmony with your inner-self.
---
10 July 2004, 07:32 93
THE MIGHTY BLUNTS are, simply put, the kings of rare dub. As in "rare groove", but with dub. Reggae and dub. Don't forget the rum & weed material when you visit THE MIGHTY BLUNTS! 3 brand new tracks produced by Grant Phabao.
---
21 June 2003, 07:23 93
This brazilian cover of Wilson Simonal's "Nao Vem Que Nao Tem" (as featured in the movie "City Of God") sets the stage of a brand new style: tropical jerk, a tasty cocktail of shake beats and 21st century swing, updated with the oh! so wet voice of Desiree Lachose and mexican electronics from Don Diego De La Grana. They share the bill as Popsanova...
---